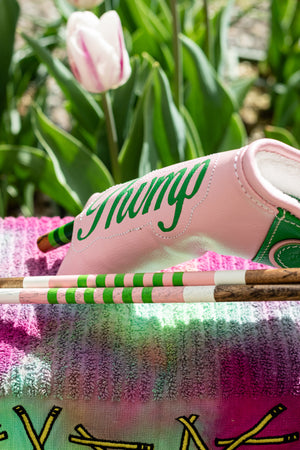 THVMP
THVMP in April - Signature Series Putter Cover
Sale price Price $275.00 Regular price
Introducing the first of the signature series putter covers, conceived by reminiscing about the Scotty covers that came with a divot tool. Boy, we weren't fortunate to have one when they came out, but yes, we picked them up in once we could fund our degenerate tendencies.
And yes, truth be told, we don't really want to sell this, and we wouldn't be upset if it didn't sell. We've priced it accordingly. We worked with our buddy at Thistle Leather Goods to bring our idea of replicating the Scotty divot tool swag covers to reality for the THVMP Greenskeeper Divot tools.
Featuring some incredible leather marquetry, this cover ingeniously hides a THVMP Greenskeeper tool on the top so that you'll never have to worry about digging through your bag for a tool.
Included with the cover are the following:
Matching Augusta themed alignment sticks 

Matching Greenskeeper Divot tool

Matching Team THVMP Towel, Tye Dyed by Prism Dyes, a small golf business run by a professional chasing the tour
Releasing at 9am PDT 4/10/2022. First come, first serve, don't complain if you don't snag it. 4 more unique covers will release in the next couple months.